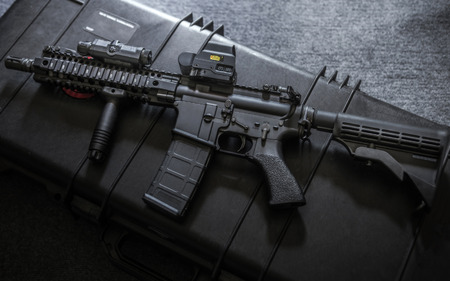 It's horrible.  Every day it seems there is another mass shooting by some psychopath whom has access to firearms.  It's simply horrible.
But, one must ask themselves, how do these people get access to firearms?  How do they pass a NICS background check?  How and why does the government let these people slip through the cracks?
It's almost scripted: Madman acquires a firearm legally.  Finds a gun free zone.  Wreaks havoc at supersonic speeds.   Gets killed or arrested.  The media pounce, mindful to never let a crisis go to waste to push an agenda.  The left cry for gun control.  The right hunker down with the NRA to protect 2nd amendment rights. It's like a bad late-night infomercial that is on constant repeat.
Meanwhile…no one ever bats an eye to one simple grim reality:  So many times the FBI were privy to practically all of these people in a strong period before these acts of terrorism occur yet somehow, someway, they weren't flagged in NICS (which is ran by the FBI) and they were allowed to legally purchase a tool to carry out the evil and cowardly task these savages had plans to put forth.  It's sick.  It's horrendous….but nonetheless very true.
One has to wonder, if the FBI and the US government want to protect the American people or use the tragedies set forth as an effort to eventually disarm the entire American Populous.
Here at firearmsdebate.com we pride ourselves on active discussions for active solutions to issues facing gun rights in America and now more than ever this discussion needs to happen.  So, the question:  Does the FBI willfully let these tragedies occur in order to further an even larger agenda or are they simply inept?  We will let you decide. Meanwhile, here are some disturbing facts about a few of the past acts of terrorism that the FBI could have prevented, but simply didn't.
2018 PARKLAND FLORIDA SHOOTER Nikolaus Cruz
Police had Been Contacted over 30 times in two years prior over him making threats with firearms.
Local Sherriff's Dept. yet never contacted the FBI.
FBI was contacted 6 weeks prior to the shooting and was informed about his plans, yet never acted upon it and wasn't flagged in NICS.
Was legally allowed to purchase firearms due to The FBI and Law Enforcement not doing their jobs.
Statement by the FBI pertaining to the ball being dropped on their part: https://www.fbi.gov/news/pressrel/press-releases/fbi-statement-on-the-shooting-in-parkland-florida
2017 NEW MEXICO SHOOTER William Atchison
 FBI agent Terry Wade said the FBI had contacted Atchison in March 2016 after he made comments on an online gaming forum.
Wade did not specifically say what Atchison posted, but was along the lines: "If you're going to commit a mass shooting, does anyone know about cheap assault rifles?"
Wade said the FBI interviewed Atchison and his family, but it closed the case because the man did not have a gun and did not commit a crime.
Wasn't flagged in NICS. Was able to legally purchase firearms.
2016 ORLANDO FLORIDA SHOOTER Oman Mateen
Hit the FBI radar in 2013 due to co-workers reporting him to them over seriously violent and inflammatory remarks.
2013 FBI formally opens an investigation into him and places him on a terrorist watchlist.
Late 2013 FBI closes its investigation into him.
2014 FBI re-opens their investigation into him and his links to Moner Mohammad Abusalha, who traveled to Syria and became a suicide bomber at a local restaurant.
Interviewed by FBI a 3rd time in 2014, deemed still not a threat.
2016 Enters pulse nightclub and opens fire.
Was never flagged in NICS and was legally able to purchase firearms.
2015 CHARLSETON SHOOTER Dylann Roof
Was arrested and convicted of drug possession.
FBI requested information about his case, local prosecutors did not respond.
Was able to purchase a firearm legally.
Wasn't flagged in NICS.
2009 FORT HOOD SHOOTER Nidal Hassan
So, one must ask why didn't the FBI act on these madmen?  Why weren't they flagged in NICS?  I would say that before the American public screams for gun control and the degradation and trampling of the rights of law abiding citizens we, as a nation, should hold our own agencies accountable to actually prevent these acts of terror from occurring.  All of the above could have, had the FBI simply done their job and flagged these savage cowards in NICS.