First, to our readers, I apologize for waiting so long to put out a new post, but it seems like every day I begin a new piece something else pops off and I just can't keep up.  Nonetheless here we are.  There are so many odd and awful things occurring in our Republic it defies logic.  So many things I could write about…so many things…
I could write about how HR 5087 is a total sham and blow to the second amendment, but I won't…it's obvious in the written language of the bill itself: House Bill 5087
I could write about how the fix NICS act in the new omnibus bill will do little to nothing to fix issues facing violence in this country, but I won't…you can find that out for yourself here and be your own judge: The Second Amendment rights of more than 4 million Americans are at risk thanks to Republicans in Congress and Background Checks For Firearm Transfers, 2010 – Statistical Tables
I could write about how posse comitatus has been raped by the federal government in the last 50 years, but I won't…you be the judge: Posse Comitatus Act and 1033 Program FAQs
I could write about the systematic pipeline we have created from school to prison and how big government and the banking industry co-ordinates it, but I won't…. why waste my breath when you can determine that for yourself here: BANKING ON BONDAGE: PRIVATE PRISONS AND MASS INCARCERATION and SCHOOL-TO-PRISON PIPELINE
I could write about how YouTube plans suppress informational videos on all things firearms related, but I won't.  You can find that out here: (but if you want to learn how to cook meth or see horrible other videos from mass beatings to how to make a bomb you can certainly find that and more at good ol' YouTube): YouTube expands firearms restrictions, more gun videos to be banned
I could write about the little weak coward sheriff's deputy, who took an oath to protect the innocent with lethal force if lethal force presented itself but didn't, here also…but I won't.  You be the judge: Parkland Deputy Who Didn't Engage School Shooter Told Other Officers To Stay Away
I could write about how our president, who I voted for solely to protect my second amendment rights, sold us out, but naw…you can see decide that for yourself: Trump administration moves to try and effectively ban bump stocks
I could write about how, in just the past 100 years democide has killed over 200 million people worldwide, but I won't…someone already has: 20TH CENTURY DEMOCIDE
Or maybe I could write about how the organizers for the march for freedom suppressed certain students from speaking because it didn't fit their anti-gun agenda…but why?  The information is out there: Family of murdered Parkland student not allowed to speak at rally. Watch their message here instead.
I could write how at age 18 one is deemed an adult…who can vote…who can enlist and go to war if needs be to defend our great Nation but now in Florida one must be 21 to purchase a firearm…and how utterly discriminatory it is but I won't…you can figure that one on your own: Florida House Passes Gun Bill That Raises Buying Age to 21 and Bans Bump Stocks
I could even go so far as to write about how even one of the least freedom friendly leftist politicians warns how a bump stock ban can lead to further bans…but eff' it right?  They are just stupid stocks: 'Slippery slope' of bump stock ban
So many things I could write about…one thing I will write about today though is a very real and possible scenario for the future of our nation and why I cited these instances above.
SCENARIO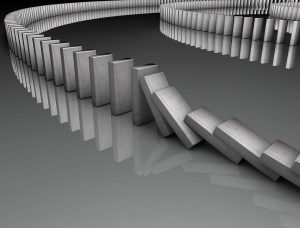 Let's just say, hypothetically, that an assault weapons ban, such as HR 5087 passes both houses of congress and the left get what they want.  There are over 300 million firearms in America and most of which are semi auto.  Then the state calls for them to be turned in.  Being a logical person, I highly doubt that would occur.  So overnight all those firearms owners become felons.
Soon to follow would be to prosecute these citizens, as now they have become criminals.  Certainly, more prisons would need to be built, which given how profitable the private prison system has become they would be erected rather quickly.  Confiscation occurs and all the scary firearms that have been made illegal are rounded up and those terrible people who refused are imprisoned.  Utopia begins.  Suddenly now there are no crimes committed with firearms and ownership goes way down.  Only the state has that power now: to protect its citizens. Meanwhile having the largest prison population earth, society is safe.
Fast forward to the next election and leftists win by landslides and more regulations begin being implemented beginning with what one can say and what cannot, any opinions that differ or go against the grain suddenly become seditious, treasonous and punishable by law.  More people are added to the prison system furthering this "utopian" society that so many people have craved, longed for, needed, wanted…the absolute false consciousness of total safety and collectivism.  The perfect society if you will.
Fast forward a few more years and we finally have the perfect president.  Everyone has healthcare.  Everyone has free education.  Everyone is happy and healthy while the prisons continue to be overran with the then scourge on society that created that horribly dangerous freedom that this nation once was.  However, this president is cleverly articulate and practically god-like and is treated and seen as such.  Out of left field an opposition begins to arise that threatens this utopian society that the state and the once then, outraged children who now are fully grown in this safe, clean, vermin free society.  This president having worked so hard to get here needs to suppress this opposition out of necessity to maintain this order…this bastion of peace.  What is he to do?  What tools does he have at his disposal?
This leader then realizes he has laws that stand behind him, and him alone.  The Patriot Act.   The National Defense Authorization Act.  He must act fast.  He goes to congress whom create legislation that allows total suppression of all due process, all rights from the 1st to the 24th amendments.  They go further.  The state realizes that the horrible scourge that they fought so vehemently to imprison has suddenly become not only a major issue of sustainment but now one of clear danger to the future of the new state.  Congress convenes once again, voting unanimously that the cost benefit ratio of keeping these prisons alive is no more viable.  Something must be done.  Something must be done.  Something…. Must…be…done.
The new body of power now believes the dissidents must be eliminated.  It is the only way the Utopian society can be maintained.  So, the democide begins.  Millions of once law-abiding citizens who once controlled this nation of laws now must be murdered by the state to maintain order.  Black men and woman…. Hispanics…Asians…whites…. Christians…Muslims…. Jews….atheists….gays…straights….transgenders…all murdered because once they loved their rights so much they paid their dues.  They worked hard.  They fought for their rights to marry whom they wished.  They fought racism and discrimination for an equal seat at the table of privilege.   They fought for their right to worship the deity that they pleased.  They fought so hard and were heard through the constitutional processes of law and prevailed.  But…they were firearms owners, so they were now criminals with no voice being felons lose their rights to suffrage…and now…they must die to protect this newly created perfect society.
I know I know it sounds ludicrous doesn't it?  Or does it?  Imagine traveling back in time and telling a Jewish merchant in 1920's Germany that in 19 years his home government would begin the slaughter of his people just because of his ethnicity.  He would look at you like you're nuts.  It simply would be a mad idea to sell him.  Maybe say the same to an Italian in pre-Mussolini Italy…a Russian before Stalin….a Chinese before Mao.
At the end of the day as odd, horrendous and unthinkable the above scenario seems given just past 100 years in so many other nations that EXACT scenario played out and if you think for a minute that it cannot here, I would suggest taking the blue pill and continuing your life in self-created ignorance.  This scenario now, more than ever is at the dawn of our feet and we cannot even see it.
So, I suggest that we break stereotypes.  Be articulate.  Be mindful.  Be peaceful.  Be a good neighbor.  Be less judgmental of those who differ than you.  Show the leftists that firearms owners aren't these ignorant fudds they think we are.  Show them we aren't the racists we are labeled.  Show them we aren't the xenophobic and ethnocentric isolationists they think we are.  But, one thing is for sure, educate them on history…  How nations fall: through incremental steps of disarmament.  Be everything they say we aren't.  The future of our nation depends on all our human rights laid out by our forefathers who wrote the constitution remaining intact, unadulterated and 100% uncompromised…especially that of the second amendment.  One inch of compromise now ensures hundreds of miles of irreversible enslavement in the not so far off future.
That is all have to say today, so I will end on two quotes that I feel fit this scenario rather well today:
"And I looked, and behold a pale horse: and his name that sat on him was Death, and Hell followed with him. And power was given unto them over the fourth part of the earth, to kill with sword, and with hunger, and with death, and with the beasts of the earth."  Revelations 6:8
"This may be considered as the true palladium of liberty… The right of self-defense is the first law of nature; in most governments it has been the study of rulers to confine this right within the narrowest limits possible. Whenever standing armies are kept up, and the right of the people to keep and bear arms is, under any color or pretext whatsoever, prohibited, liberty, if not already annihilated, is on the brink of destruction. In England, the people have been disarmed, generally, under the specious pretext of preserving the game: a never failing lure to bring over the landed aristocracy to support any measure, under that mask, though calculated for very different purposes. True it is, their bill of rights seems at first view to counteract this policy: but the right of bearing arms is confined to protestants, and the words suitable to their condition and degree, have been interpreted to authorise the prohibition of keeping a gun or other engine for the destruction of game, to any farmer, or inferior tradesman, or other person not qualified to kill game. So that not one man in five hundred can keep a gun in his house without being subject to a penalty."
St. George Tucker, Blackstone's Commentaries of the Laws of England 1803.
Written by: Zach Atkins